Group setup allows you to separate the employees into the specified groups managed by different managers. For example, if you have multiple branches, each with their own manager, you can use this to delegate administrative work such as the updating of time clock or approval of attendance records to these administrators.
Setting up
Step 1: Click on Group Setup in Configuration
Step 2: Click on

Step 3: To add a new group, give a Group ID in the

field
Step 4: Enter the description of the group in the

field
Step 5: Select the Administrator by clicking on the

field and a list of users like below will appear. Just select the person/persons in charge.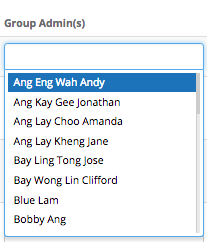 Step 6: State whether the administrator can only read or they can perform editing. If read-only click on the

checkbox
Step 7: Click on

to complete the setup
Editing the Group Setup (Optional)
Step 1: To edit the group setup click on the

icon at the Actions column.
Step 2: Once the required changes are made, remember to click on the

button to save.
See this guide for assigning Employees to which group: https://support.justlogin.com/hc/en-us/articles/360025232852-Configuration-Group-Setup-Express-
Archiving (Optional)
If the group is no longer in use, you can archive the group. Note that you cannot delete the group.
To archive, click on the

icon.