You can define all your company's pay elements in the Pay Elements page. The pay elements are items in which you paid or deduct from the staff that would make up their monthly salary.
Add Pay Elements
Step 1: Click on

Step 2: Select

Step 3: Click on

Step 4: Click on

Step 5: Scroll down and click on

Step 6: Provide a unique pay element ID. It can be anything as long as it is unique and understandable to you.

Step 7: Enter an Element Name. Try to be descriptive and clear as this is the name that the staff will see in their payslips.

Step 8: Select whether this pay element is going to be an allowance, deduction or reimbursement. An allowance is essentially a sum of money paid regularly to a person to meet needs or expenses, reimbursement is a sum paid to cover the money that has been spent. Deduction any amount deducted from the employee.

Step 9: You can put an amount or formula here. For example, if you are giving $100 to every employees, you may put in the $100 in the amount.

Step 10: You can set an amount limit if you wish to. This limit will flag out the pay record if this pay element exceeded the amount or percentage specified by you.

Step 11: Important. It is important to put the correct tax code for the Allowance. Putting the wrong Tax Code will eventually affect tax returns documents such as IR8A.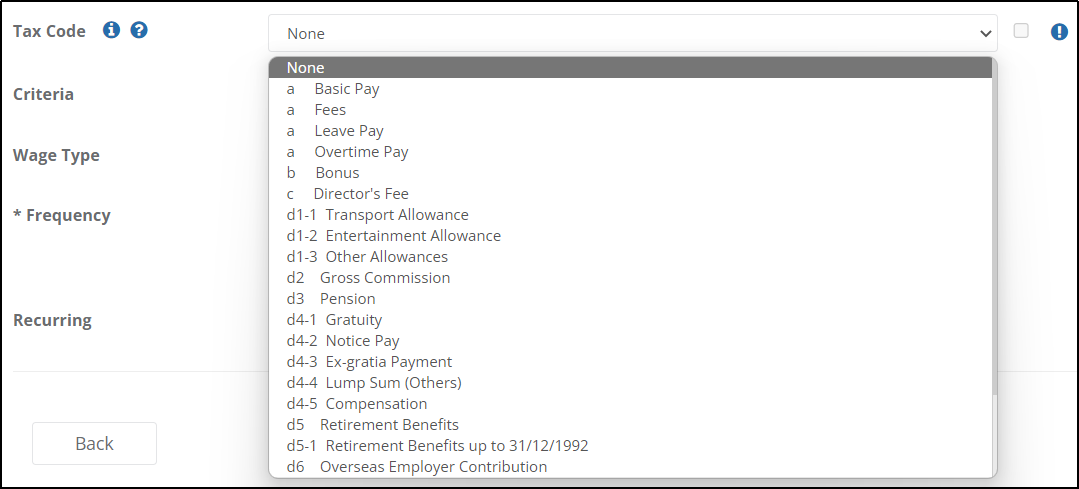 Step 12: Specify whether the pay element is a pro-rated payment, is it CPF/SDL Payable or is it a Benefits-in-Kind type?

Step 13: Select which type of wage does this pay element (Ordinary or Additional Wage) belong to.

Step 14: Choose the frequency of this pay element. There are 4 choices here.

a. Fortnightly - choose whether to add this pay element in the first or second interval.
Monthly - once added, this pay element will appear every month.
c. One Time - once you approved the pay run, the pay element will be removed from the pay element list in the next month.
d. Inactive - allow you to deactivate the pay element.
Step 14: (Optional) The Recurring fields allow you to specify the recurring months that this pay element will be used.

Step 15: Click on

to save the pay element.