You can define all your company's pay elements in the Pay Elements page in Configuration. Pay elements are itemized components, which make up the breakdown of amounts you're paying or deducting from the staff that would make up their monthly salary.
Add Pay Elements
Step 1: Click on

.
Step 2: Select

.
Step 3: Click on

.
Step 4: Click on

.
Step 5: Scroll down and click on

.
Step 6: Provide a unique pay element ID. You can use the same pay element name, but no spaces or special characters.

Step 7: Enter an Element Name. Try to be descriptive and clear as this is the name that the staff will see in their payslips.

Step 8: Select whether this pay element is going to be an allowance, deduction or reimbursement. An allowance is essentially a sum of money paid to the staff to cover service or certain allotment, reimbursement is a sum paid to cover the money that was spent, and deduction for any amount to be deducted from the employee.

Step 9: You can put an amount or formula here. For example, you are giving a fixed $100 allowance to all employees, then you can put in 100. Otherwise, leave it 0 and indicate the varying amounts in the individual employee's pay information page.

Step 10: You can set an amount limit if you wish to. This limit will flag out the pay record if this pay element exceeded the amount or percentage specified by you.

Step 11: Important - For any pay element under Allowance, it is important to indicate the correct tax code to ensure that all wages will reflect in the employee's IR8A form.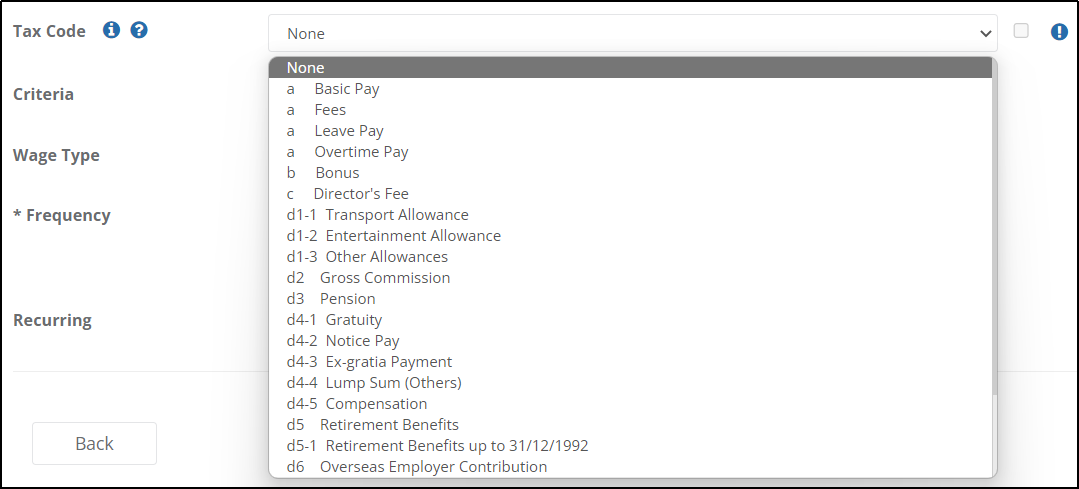 Step 12: Specify whether the pay element needs to be prorated, if it is CPF/SDL Payable, or if it a Benefits-in-Kind type. Click the tooltip for details.

Step 13: Select which type of wage (Ordinary Wage or Additional Wage) this pay element falls under.

Step 14: Choose the frequency of this pay element. There are 4 choices here.

a. Fortnightly - to follow user's pay period, if payrun is processed every 2 weeks. Select whether to process this pay element in the first or second interval, or both.
b. Monthly - the default setting, if payrun is processed on a monthly basis. This pay element will remian active every month.
c. One Time - if you're using the pay element only once. After the payrun has been processed, the pay element will automatically become inactive.
d. Inactive - will not be included in the payrun.
Step 14: (Optional) The Recurring field allows you to specify the recurring months that this pay element will be used.

Step 15: Click on

to save the pay element.
Related article: How to update Pay Details