Step 1: Click on your name and you will see a drop down menu.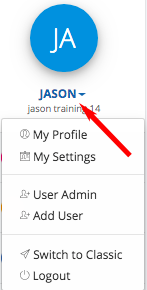 Step 2: Select

. You will by default placed in the Employee Details page.
Step 3: Click on

. The system should show you the Company Details page.
Step 4: Click on
. The following page will appear.
Below are the detailed purpose per item:
Prompt new user to reset password
Upon the first login to the system, the user will be prompt to change their passwords.
When logging in, the staff will be directed to this page
Step 1: Enter the password
Step 2: Confirm the password in step 1
Step 3: Click on the
to reset the password.
Enable Strong Password
If you wish, you can enforce the employees to use strong password to enhance the security.
Step 1: Check on
Step 2: Change the configuration in compliance with your company's security requirements.
Step 3: Click on
to save the configuration
Enable Two Factors Authentication
Justlogin has introduced an enhanced security option that requires employees whose 2-factors authentication if enabled to perform a second authentication by entering a randomly generated pin on the employee's hand phone.
To understand how the 2 Factors Authentications works, please kindly refer to the following link:
https://support.justlogin.com/hc/en-us/articles/360021638772-2-Factor-Authentication-Video-for-Administrator