The staff has added security measure to protect his/hers pay information the payslip can have a PIN protection. Also when the payslip is sent via email, it will be secured too when this is set.
Note: Only the End User for her own Payroll Pin
Step 1: Click on your name.
Step 2: Go to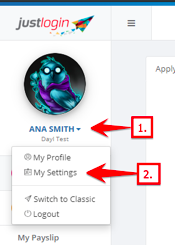 Step 3: Click on "CHANGE EPAYROLL PIN"
Step 4: Type in your numerical PIN and click on Save Changes.