This is an added security measure to protect pay information when the payslip is viewed. Also when the payslip is sent via email, it will be secured too when this is set.
Note: Only the End User can set the Payroll Pin (Admin do not have access)
Step 1: Click on your name.
Step 2: Go to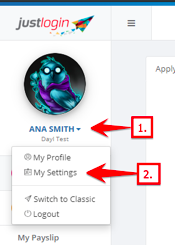 Step 3: Click on "CHANGE EPAYROLL PIN"
Step 4: Type in your numerical PIN and click on Save Changes.