Introduction
This enables us to synchronize the leave calendar from the system to your company's shared email address calendar to ensure users are notified of who or how many employees have applied for leave and who are on leave for certain dates.
Steps
Step 1: Log in to system (Express)
Step 2: Go to

Step 3: Click on

Step 4: You will see

Step 5: Look for

Step 6: Select "Yes" for "Does the company have an external calendar to update for approved leave applications" and key in the email address of the shared external calendar.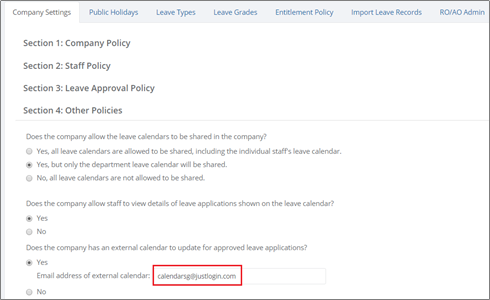 Step 7: Click on

NOTE: Instructions below are done on the shared calendar settings in the company's email account (either Outlook or Google Calendar).
On Outlook Calendar
Step 1: Log in to Outlook Shared calendar account on a browser > Go to Setting > Calendar
Step 2: On the left side, Go to calendar publishing, get the ics link of the shared calendar.
Step 3: Open your personal outlook email > Go to File > Account Settings > Account Settings > Internet Calendars > New
Step 4: Add in .ics link you got from the shared calendar opened from the browser.
Note: Change the link address from https://outlook.office365......... .ics to webcal://outlook.office365...... .ics
Step 5: Click "Add" and the screen below appears. Enter the name of the calendar and click 'OK'.
Step 6: Go to Calendar, and you will see the shared calendar has been added into your calendar.
Note: If the shared calendar has much data to synchronize, the data will not appear right away. It will take time to do it. You can check the status from the Send/ Receive> Show Progress window.
On Google Calendar
Step 1: Log in to the external calendar Google account, click on option and select "Calendar"
Step 2: In the calendar view, click on the wheel icon on the extreme right and select "Settings"
Step 3: Under Calendar Settings, click the "Calendar" tab. Under "My Calendars", click on "Share this calendar" in the "Sharing" column
Step 4: Tick the checkbox "Make this calendar public" > Save
Step 5: Once the public setting has been saved, click on the "Calendar Details" link. Under Calendar Address, click on "ICAL" and a hyperlink will appear. Copy the URL hyperlink.
NOTE: All leave applications submitted and approved after the configuration will be shown on the external calendar.