Introduction
This provides us the answer to the question of how long the off-in-lieu request adjustment stays in the system before it expires.
The first thing that needs to be done is to enable the option to allow employees to request Off-in-Lieu
Step 1: Log in to the account
Step 2: Click on

Step 3: Go to

Step 4: Go to

Step 5: Go to

Step 6: If you have checked this option, you are to specify how many hours is equivalent to 1 leave day.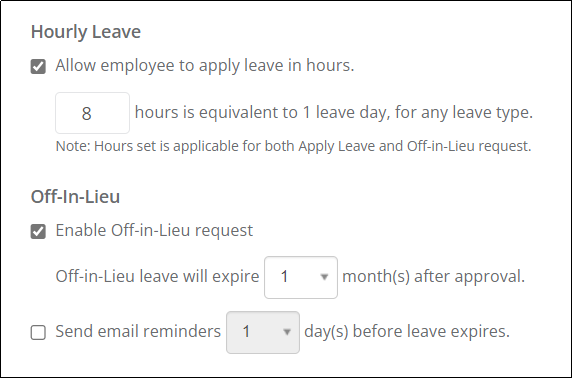 When an employee submits a request on the Dashboard and was approved, it will be shown as an adjustment under the Adjustment History page.


Currently, the system will allow users to consume the off-in-lieu requested from the "Action Date" up to the settings indicated in the Configuration for Advanced Settings.

NOTE: There is no option to set the expiry date of this request. It is also recommended to enable the option:


when using the Off-in-lieu feature so that the expiry date of the approved off-in-lieu request will be displayed on the adjustment history page.