If your staff cannot see the childcare leave types when applying for a leave, there are three things that need to be checked.
Check if the child details of the staff are in the system
Step 1: Go to

Step 2: Click on

Step 3: Go to

Step 4: Make sure that you have added the employee's child details on this page. If the child is Singaporean, put a tick under the Pro-Family Leave column.

Check Childcare & Extended Maternity Leave Settings.
Step 1: Go to

Step 2: Click on

Step 3: Go to

Step 4: Click on


Step 5: Make sure that all the childcare-related leave type options are enabled, the option to allow within 3 months of service is depending on your policy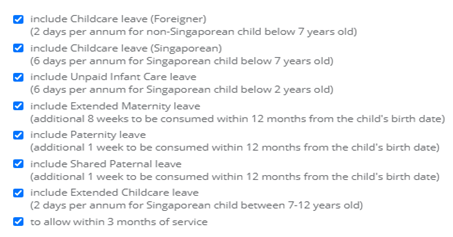 Check the settings for the different Childcare Leave
Step 1: On

page, look for the childcare leave and click on the

icon
Step 2: On the pop-up window, please make sure that the setting for married staff is ticked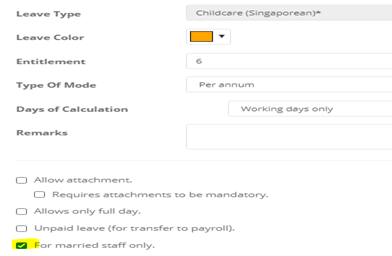 Please note that if the "married" option is ticked here but not enabled under Leave - Administration - Entitlement & Details page, the employee will not be able to see this leave type.