This article will show end-users how to check or view the expiry date of their Annual Brought Forward leave type.
Steps
Step 1: Login to your account
Step 2: Go to

Step 3: Click on the

Step 4: From the Leave Dashboard, click on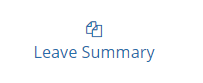 Step 5: You will be brought to the Leave Summary Page. On the upper-right area of the screen, please click on "Table View". This will toggle your leave summary page to the table view.

Step 6: Look for the Annual Brought Forward leave type, and you will see the expiry date indicated