Introduction
The calculation for new joiner's MPF will only take effect after the 60 calendar days from joined date.
Let's take below as an example.
Employee A joined the company on the 5th of June. Within the 60 days from joined date there will be no MPF contributions.
After the 60 calendar days, the contribution start date will be on 3rd of August. Hence, the first contribution will be on the 10th of September.

The Employer will need to contribute from the first day of employment of the employee and will need to pay before the 10th of September.
2. Employee Blue's joined date is the 1st of June. Employee MPF will not be deducted for contribution on the first month, but there will be Employer MPF from the joined date. However, it will not be shown on the payslip.

On the second month, the Employee and Employer MPF will be counted accordingly. Employer MPF will be shown in the payslip together with the previous month's contribution.
Example: YTD is calculated based on $300 (June) + $300 (July) = $600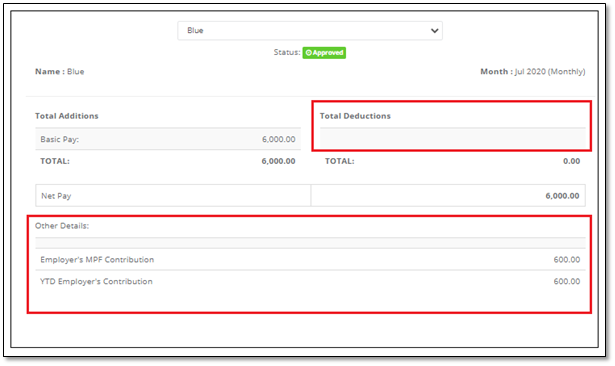 Succeeding months should display and calculate both Employee and Employer MPF accordingly.

Please note: Employee with 'Foreigner' or 'Expatriates' status who stays in Hong Kong for less than 13 months is not required to contribute MPF.