This guide will show users how to submit the Benefit claims via the web(computer).
Steps
How to submit a Benefit Claim.
Step 1: Log in to your account.
Step 2: From the main menu, click on

.
Step 3: Click on

.
Part 1 – My Benefits
This is where you can view all the available Benefits, including the Benefit Types with the balance amount, and the cap per claim and cap per year.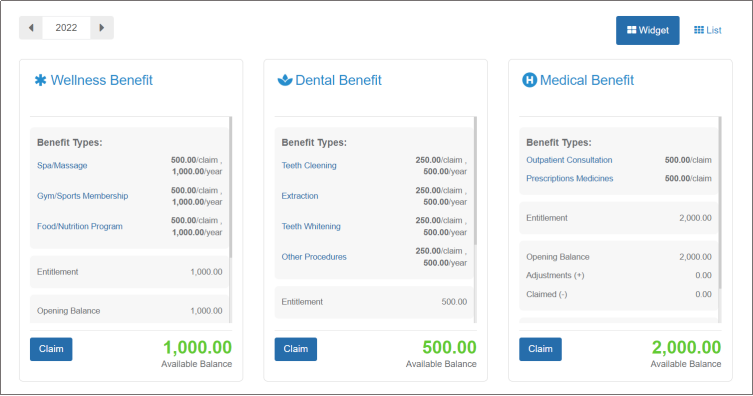 Step 4: To submit a claim, click on

.
A pop-up will appear.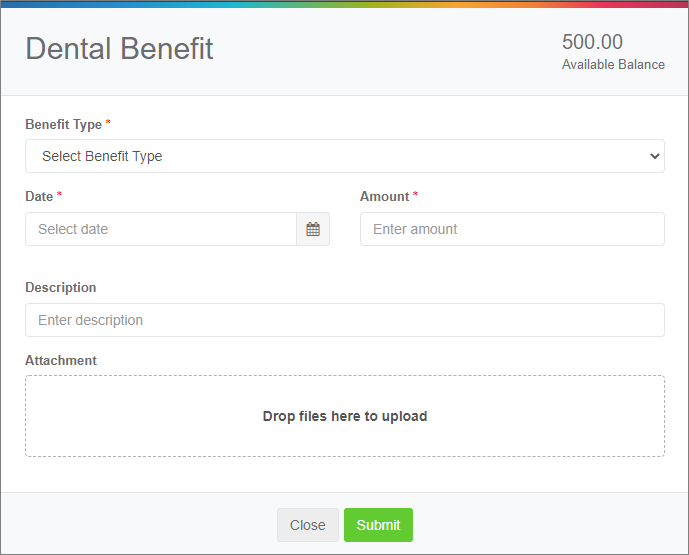 Step 5: Indicate the date of transaction.

Step 6: Enter the claim amount.

Step 7: You can add a description of the claim.

Step 8: Upload the attachment here.

NOTE: File in png, jpg, jpeg, and pdf format is accepted. Maximum of 5 files, 5mb per file.
Step 9: Click on

.
You will then see this pop-up notification indicating that the claim has been successfully submitted.

Part 2 - Benefit History
This is where you can check the status of the Benefit claims you have submitted.

Filter the year from the dropdown option to see the Benefit details.
a) Category - the Benefit category you have chosen

b) Benefit Type - the Benefit type selected

c) Submitted on – date when Benefit claim was submitted

d) Amount - amount of the submitted Benefit claim

e) Status
Draft - Claim has not been submitted

Submitted - Claim has been submitted for approval

Approved - Claim has been approved

Rejected - Claim has been rejected

f) Action
Paperclip icon - view the attachment

Pencil icon – edit claim (when in Draft status)

Circle arrow icon - recall claim (when in Submitted status). Benefit status will change back to Draft when clicked