The CPF File Generation is available only to Mandatory CPF Contributions, by default. As a recent system enhancement, Payroll Administrators can now generate the CPF file for Voluntary CPF Contributions, as well. This applies to employees who voluntarily contribute CPF on top of their mandatory share. Please reach out to the Support team should you be interested to have this feature added to your account.
To set up the CPF Submission No. of the employees, please follow the steps below.
Step 1: Go to

then click on the

of the staff.
Step 2: Click on

.
Step 3: Under

assign the CPF number for the selected staff.

"CPF Submission No (Vol Con)" dropdown will show the list of all the CSN numbers available in the company.
NOTE: In order to use Voluntary CPF File generation, the Company must have more than one CSN Numbers in the company configuration setup.
For Voluntary CPF file generation, please follow the steps below:
Step 1: Go to

.
Step 2: Click on

.
Step 3 Choose "Voluntary" in the "CPF Submission Type" dropdown.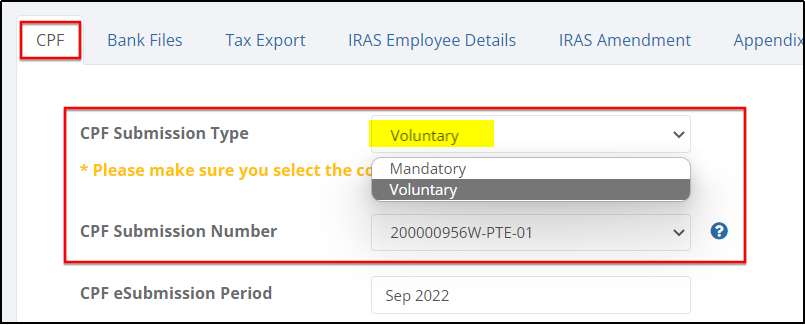 Step 4: Choose the respective CPF Submission No. assigned to the employee.
Voluntary CPF Submission generates three files - the e-submission file, preview file and CSV file.

NOTE: Voluntary CPF file only provides voluntary CPF contribution for the selected payroll month, and is separate from the Mandatory CPF amount.
Refer here for Mandatory CPF file generation - https://support.justlogin.com/hc/en-us/articles/360029985811-File-Generation-CPF.