Introduction
JustLogin gives you the option to conveniently generate your employees' tax forms, and directly submit them to IRAS. The IRAS Opening Balance can be used on scenarios below:
to cover the payroll months prior to your first JustLogin payrun
when a Tax Code was missed out or incorrectly set for a pay element
any additional monetary amounts given to a staff that were not included in the payrun
Director's Fee or any other compensation which doesn't require payroll processing
NOTE:
Any changes to the Opening Balance will not reflect in any Payroll report.
The IR8A Form data will be comprised of the values entered in the Opening Balance plus any approved payruns.
To cover previous months' payroll, get the sum of the wages by tax code and enter the total amount under the corresponding section.
Any deductions can be entered as a negative number.
Steps
Step 1: Login to the account.
Step 2: Go to

.
Step 3: Click on

.
Step 4: See the blue button to the right - Other Forms.

Click to select IRAS Opening Balance from the dropdown.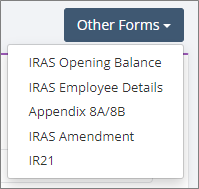 Step 5: You will be directed to this page: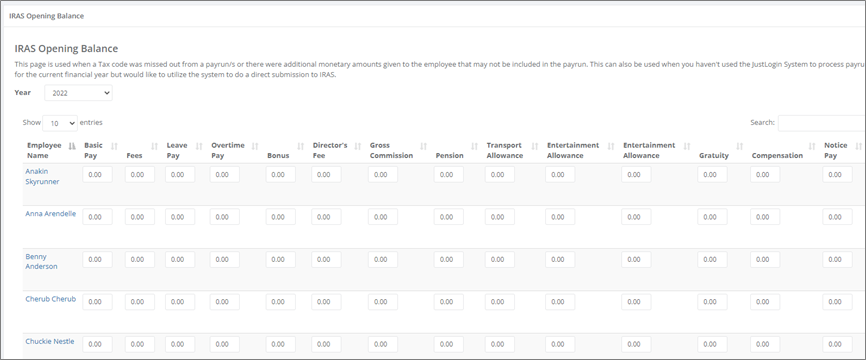 There are 2 methods to complete the IRAS Opening Balance. You can choose either, or a combination of the two.
Method 1: Manual input
a) Update the corresponding column from the Opening Balance page itself, or click the employee name to see the whole list.
All the Tax Codes based on the IR8A Form is listed here. Update the Amount section for the corresponding tax code/s with the required values.

b) Click

to save the changes.
c) Scroll through the names on top to move to another employee. Repeat the same steps.
Method 2: Import via Excel
a) Click the

button in the lower right side of the Opening Balance page.
b) Scroll down and click
, and save the file to your computer.
c) Open the .csv file and input the values accordingly. Once done, save the file.
d) Back to the JustLogin page, you can drag the file or click on the box to select the file:

e) Once file has been selected, click on

.
f) The next page is to map the system headers to the file headers. Click

.
g) A pop-up message will appear. Click YES to continue.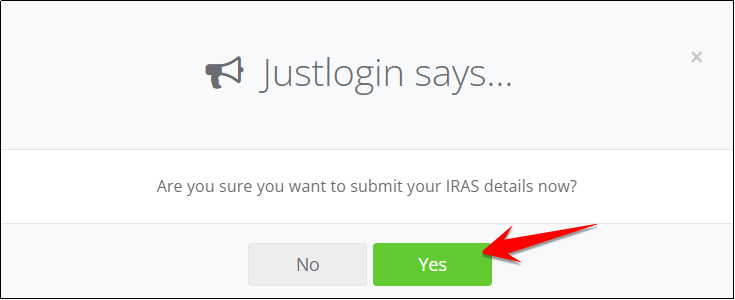 h) You will see this notification that the records were imported successfully.