Introduction
Completing the IRAS Opening Balance can be done when a Tax code was missed out from a payrun/s or there were additional monetary amounts given to the Staff that may not be included in the payrun. This can also be used when you haven't used the JustLogin System to process payrun for the current financial year but would like to utilize the system to do a direct submission to IRAS.
Example: If you have mistakenly add wrong Tax Code under Commissions 5,000 when it should be under Other Allowance. In this case, in the Opening Balance Tax Code:D3 add - 5,000 and in Tax Code:D1-3 add 5,000
Steps
Step 1: Login to system (Express version)
Step 2: Go to

Step 3: Click on

Step 4: Click on

Step 5: You will see the page below: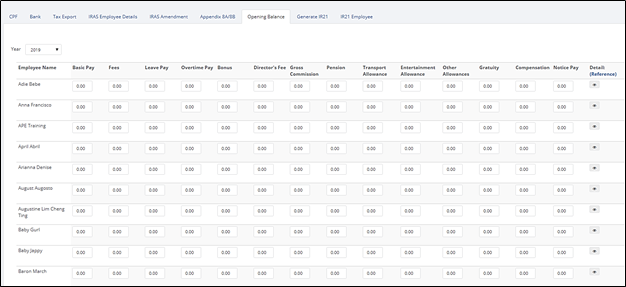 NOTE: There are 3 methods to complete the IRAS Opening Balance, you can choose any or a combination of each of those methods:
Method 1:

Direct Input – limited tax code but data can be input immediately - this is a good choice if you are only inputting the data of a few users
a) Input the values directly to their respective column name. It also accepts a negative value. Once done click

Method 2: Edit Individually – advantage more Tax code and CPF etc. are available
a) Scroll to rightmost and click on the

icon
b) Go to other names by clicking the dropdown list on the upper left side: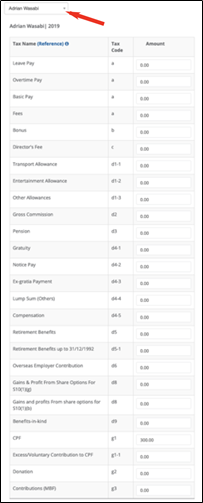 c) Input the values directly to their respective Tax Name / tax code, once completed click

Method 3: Import via Excel – recommended for bulk entries
a) Click on

found in the lower left side corner.
b) Scroll down and click

and save the file to your computer.
c) Open the file and input the values accordingly. Once completed, please save the file.
d) Back to JustLogin page, you may DRAG the file to the area shown below:

e) Once done, click on

f) The next page is the mapping, if no header was changed in the excel file click

, else, please map the data accordingly. Finally, click

g) Click YES to continue

h) Click

i) Verify the data again at the Opening Balance page.
Note:
Any changes to Opening Balance will not reflect in any Payroll Report. It will directly reflect in the IR8A Form once generated.
If there are Payrun in the system with same Tax Code it will be on top or value will add up (if positive and deduct if negative)