The Entitlement & Details page allow you to set the entitlement and details such as the work week of the staff.
Note that this page does not show you the leave balance of the staff. For that, you need to use the Leave Balance Report.
The steps to using this page are:
Step 1: Click on

Step 2: Click on

Step 3: Click on

The following page display of the opening balance depends on the configuration. For the Annual leave, If you set it to earned leave, you will see 0 at the Opening Balance. If you had chosen entitlement, you will see the entitlement that is full amount or the prorated amount in the Opening Balance.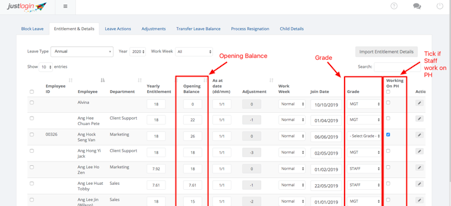 Step 4: If you configure your leave to have grades, you can select the job grades of each of the staff so that the correct entitlement will be allocated for them.
Step 5: If the staff needs to work on Public Holiday, you need to click on the Working on PH column. This would allow the staff to take leave even if is Public Holiday. By default, staff cannot take leave on Public Holiday.
Step 6: Click on

to save changes.