SuperAdmin can now add new user licenses to the account. This is only available to customers who are subscribed to the Base, Essentials, and Growth Plans.
NOTE: The system will only allow adding in of licenses. Should you like to reduce the existing licenses, please contact Finance (billing@justlogin.com).
How to add a license:
Step 1: Log in to the account using the SuperAdmin profile.
Step 2: Click on the profile name, and go to User Admin.
Step 3: Under the Employee Details tab, go to Manage Subscriptions.


Step 4: Click on

.
Step 5: A pop-up window will show up. Key in the number of licenses you need.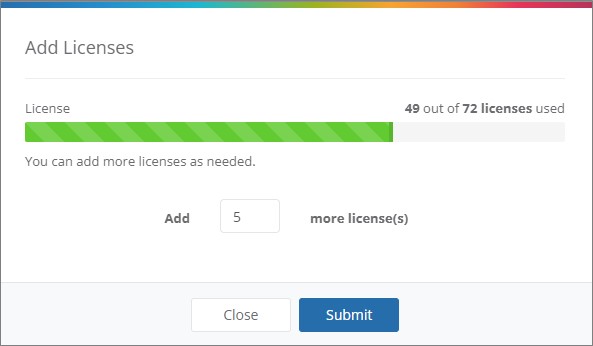 Step 6: Click on

to proceed.
Step 7: A pop-up will appear, cick the button to confirm.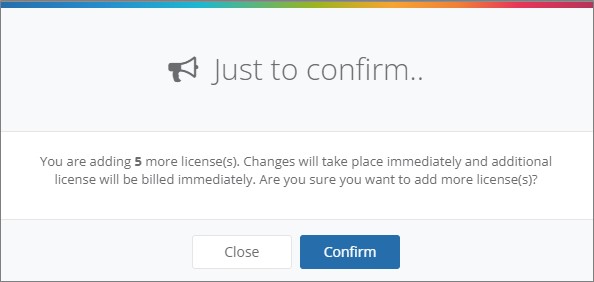 The licenses will be increased immediately.
Dashboard:

a. Icons – modules enabled on the account
b. Start Date – date when new price plan takes effect
c. Next Billing Date – next billing cycle
d. Term – billing frequency
e. Plan – type of plan (Base/Essentials/Growth)
f. Active Users – total active users
g. Minimum Users – the number of user(s) in the Service Agreement during the commitment period
h. Available Licenses – available slot for additional user (Total Licenses – Active Users)
i. Total Licenses – total number of licenses subscribed
Billing
Please note that our billing system will send you the invoice immediately once the number of license is increased.
Sample 1:
New price plan - Monthly:
Contract Period: 1 Jan 2022 - 31 Dec 2022
Add 1 license on 25 Aug 2022 (Unit price: $x.xx/license)
- System will prorate and charge immediately based on the date when license was increased (25 Aug 2022 - 31 Aug 2022)
- ($x.xx x 7/31)= $xx
Sample 2:
New price plan - Yearly:
Contract Period: 1 Jan 2022 - 31 Dec 2022
Add 1 license on 25 Aug 2022 (Annual price: $xx/license)
- System will prorate and charge immediately based on the date when license was increased (25 Aug 2022 - 31 Dec 2022)
- ($xx x 129/365)= $xx