Advanced Settings is the section where you can see additional features that can be enabled, based on your company's requirements. Each function that can be found under Advanced Settings are discussed below.
Step 1. Go to

.
Step 2. Click on

.
Step 3: Scroll down, look for

This is what you will see: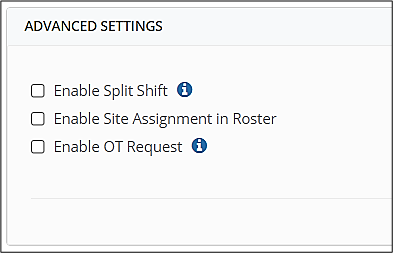 Split shift feature allows you to set different Work Time each day for each staff in the Roster. This is extremely useful in the F&B and Security industries where staff sometimes need to perform 2 different shifts on a single day.
To enable this function, put a tick inside the checkbox .
Click on the to save the changes. You will need to logout of the system, and then log back in for the Split Shift to take effect.

Once enabled, the split shift function can be viewed on the roster page:
A. Go to .
B. Click on .
C. The Roster should now be in the Weekly view with 2 shifts displayed as opposed to the Monthly view.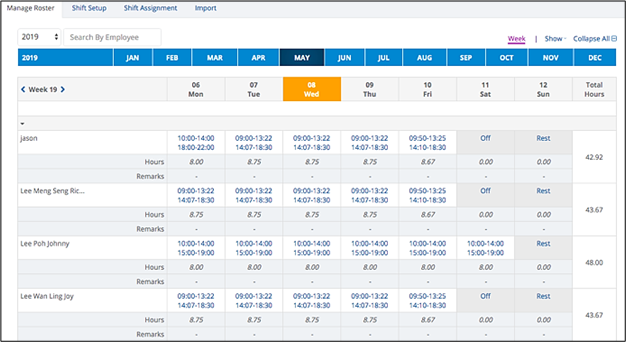 D. By default, the system will split the Work Time based on default shift. To set edit the default split shift for a particular day, you need to click on the day. Currently, you can only do this per day per user.
E. Change the timing accordingly. The Break Time will be automatically populated based on 1st End Time and 2nd Start Time. You may also enter remarks.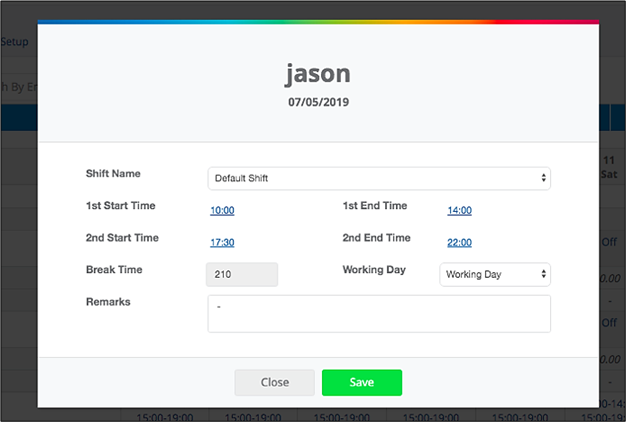 F. Click on

to save the split shift for that day.
Site Assignment in Roster enables the admin to choose the site assignment for each user on a daily basis. Please note that this is only going to be shown on the Roster page and will not affect the Reports generation, nor will it show on any of the reports.
A. Put a tick beside the option Enable Site Assignment in Roster, then click on Save.


B. Once done, scroll up and you will see the Site Setup tab at the top. Please click on it.


C. Create the sites to be assigned, type in the site name in the field:


D. Click on to save what you have created
E. Proceed to the Roster section on the left side panel


F. Click on the shift schedule and a pop-up window will appear


G. The pop-up window will have a field wherein you can assign the site. Then Save.


H. On the Roster page, you can toggle the view to show based on the sites assigned by clicking on "site" at the upper right area of your screen

The OT Request feature allows your staff to request any OT rendered to be converted into cash (Payroll) or Time Off (Leave)
A. Make sure OT Request option is enabled, and define the Time-Off setting, then Save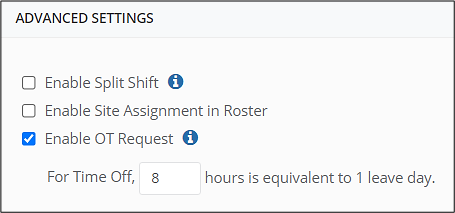 Notes:
A. The OT Request is not applicable to Staff whose OT computation is based on Weekly. It is only applicable for STD and End Time
B. Any OT rendered by the staff can only be processed via the OT Request function
C. Clocking Approval should either be set to "Enable approval by group administrator" or "Enable workflow approval" (Click here for the guide to Clocking Approval) - this will allow you to set the approvers/processing officers for the OT request sent by users.

Related Articles:
How Approving and Processing Officer approve OT Request
Transferring OT Request to Leave Module