Normally, new hires should be able to apply for No Pay Leave though they haven't spent specific months of service with the company, e.g. 3 months.
In case they would receive an error message that they need to have at least 3 months of service at the leave date, the No Pay Leave setting needs to be updated.

Please follow the steps below:
Step 1: Login to the account
Step 2: Click on

Step 3: Go to

Step 4: Click on

Step 5: Search for the "No Pay" leave type and click on

under the Actions column. This will bring you to the individual setting of this particular leave type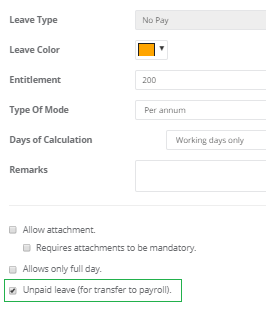 Step 6: Make sure that the option

is ticked. In this way, the system would recognize it as unpaid and would allow staff to apply.
Step 7: Click on

Step 8: On the Leave Types page, please click on

for the changes to take effect.