Introduction
This guide will help you confirm if the Verification Alert is valid. First, please check the permitted geofence radius set in your company. See link: https://support.justlogin.com/hc/en-us/articles/360033178432-How-to-set-up-Geofencing-
In this scenario, let us take the geofence radius is set to 150 meters only.

Once a staff clocks in/out outside of the geofence radius set in your system, you as the administrator will receive a notification like the one below:

To verify the location of the staff, please follow the steps below:
Step 1: Go to

Step 2: Click on

Step 3: Look for the

tab at the top
Step 4: Get the location address and copy it. In this case, it is 930 Yishun Avenue 2, Singapore

Step 5: Open maps.google.com in a tab or browser and type in the location address in Step 4
Once you have it, kindly copy the coordinates from the URL.

Step 6: Please open this link in a new tab or browser: https://www.movable-type.co.uk/scripts/latlong.html
Input the coordinates found in Step#5 at Point 1: 1.42959 and 103.8335807 like in the screenshot below: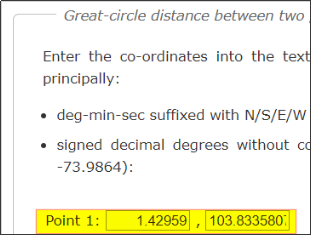 Step 7: Get the coordinates of the Staff's clocking information from

then click the

tab
Step 8: Filter the information by choosing the exact date and specific Employee and click

Step 9: Right-click on the map. In the example we have, this is the location of the staff at the point of clocking out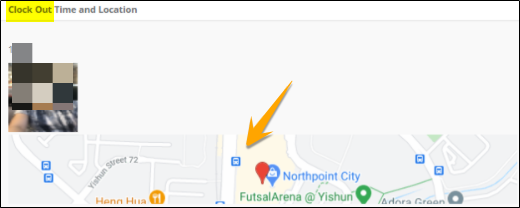 Step 10: It will open in a new tab a map and get the coordinates in the URL.
In this case: 1.42799081,103.836199
Step 11: Go back to the tab or browser in Step 6, input the coordinates in Step 10 at Point #2.
It will show the total distance. In this scenario, the distance is 3km, and it's beyond 150m, therefore the alert is valid.